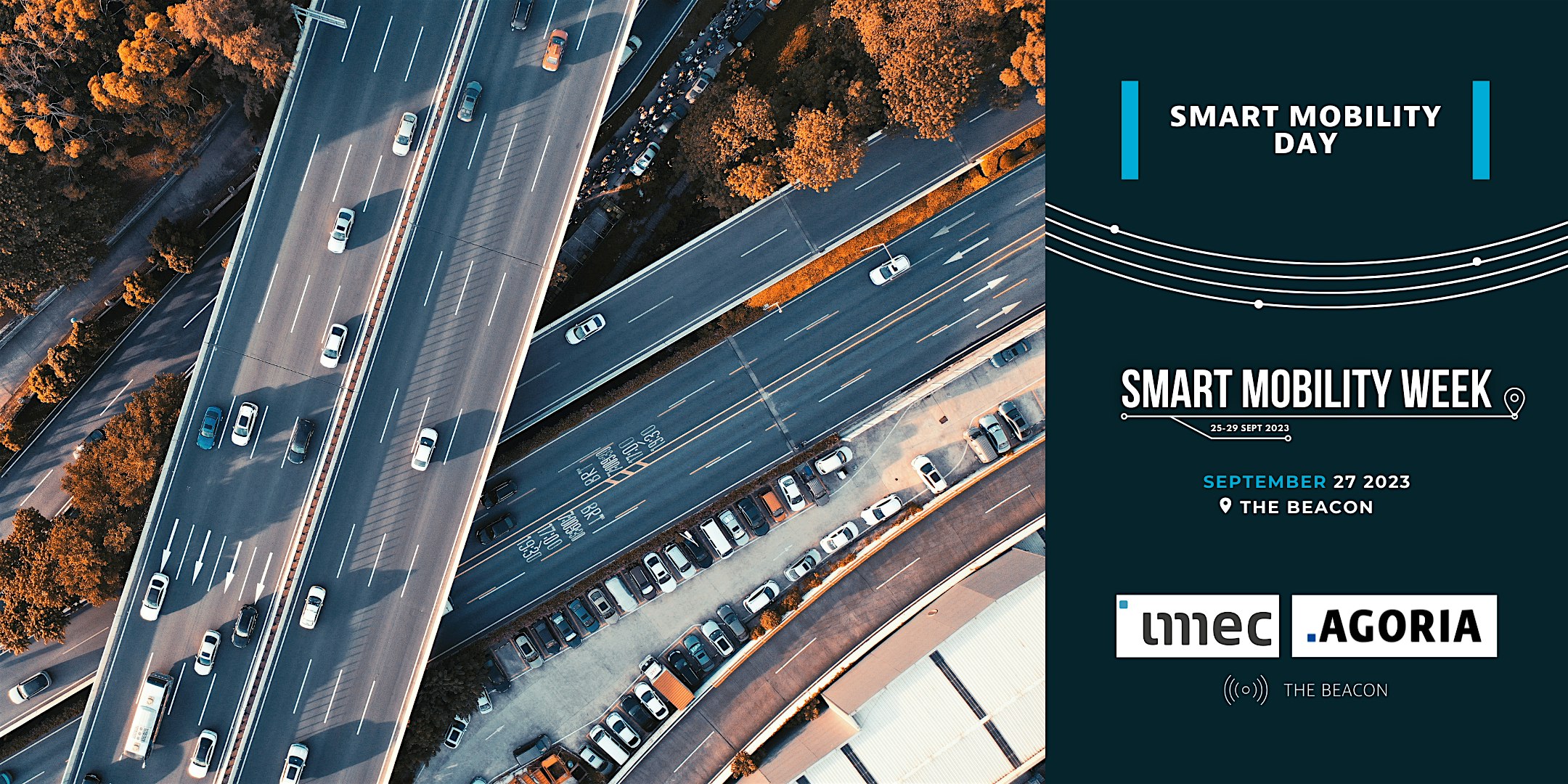 About this event
SMART MOBILITY DAY
Join us during a day where we discover the ever evolving world of mobility data strategies, focusing on Belgium and Europe, presented to you by The Beacon, imec Vlaanderen, Agoria and Digitaal Vlaanderen. We will inform you about upcoming projects and the latest insights.
Prior knowledge is not necessary for this event. You can expand your knowledge on the subject as well as take first steps.
P ROGRAM
08h30 – 09h00: Registration
09h00 – 09h30: Opening and welcome by Robin Pauwels (The Beacon), Jan Adriaenssens (imec Vlaanderen) and Jan Smedts (Digitaal Vlaanderen)
09h30 – 10h00: Keynote on European & Flemish Data Strategy by Tanguy Coenen (imec Vlaanderen) and Mathias Van Compernolle (Digitaal Vlaanderen)
10h00 – 10h45: Speed pitch sessions by various companies in the domain of mobility (Yunex Traffic, Geosparc, Uze Energy, Macq, Cegeka)
coffee break
11h00 – 11h45: Panel discussion "Future of Mobility and Data Innovation" by Evelien Marlier (imec Vlaanderen), Annelies De Craene (Digitaal Vlaanderen), Erika Decorte (Flemish Agency for Roads & Traffic), Ken Casier (Cegeka)
11h45 – 12h45: Announcement Belgian Data Spaces Alliance by Jelle Hoedemaekers (Agoria)
12h45 – 13h45: Lunch & Networking
13h45 – 14h00: Speech on the Impact of Data & Innovation in the domain of Mobility by Mark Andries (Flanders Innovation & Entrepreneurship)
14h00 – 14h30: Keynote on Flemish Mobility Vision 2040 by Filip Boelaert (Flemish Department Mobility and Public Works)
14h30 – 16h30: Presentation Mobility projects:
1. Mobilidata: Large Scale Roll-out of C-ITS in Flanders
2. Flanders Smart Data Space & Data Integration Services for Smart Mobility
coffee break
3. Citcom.ai: Testbed for AI-innovation in Urban Mobility and Logistics
4. MegaBits: Cycling Intelligent Transport Systems
16h30 – 16h45: Closing word by Filip Boelaert (Department Mobility and Public Works)
16h45 – 19h00: Networking reception
Prepare for a day of insights, networking, and discovery as we unravel the strategies that will define urban landscapes.
F OR WHOM ---------------------------------------------------------------------------------------------------------
All technology companies, researchers and public authorities interested in, or fascinated by mobility of the future
Mobility companies and enthusiasts (tech and non-tech)
L ocal, regional or federal government actors and mobility specialists
Infrastructure and construction companies
Cities and towns wanting to expand their knowledge on this topic
THE BEACON SMART MOBILITY WEEK ----------------------------------------------------------------------------
The Beacon is the community for digital technology leaders. The Smart Mobility Week is a concept in which The Beacon collaborates with other organizations to share knowledge about smart mobility, inspire all stakeholders, and foster collaboration. For more information about the Smart Mobility Week, please visit the website of The Beacon at https://www.thebeacon.eu
I NFORMATION ------------------------------------------------------------------------------------------------------
How to reach The Beacon - Sint-Pietersvliet 7, 2000 Antwerpen?
TRAM: take tram 7 to stop Sint-Paulusplaats
VELO: Velo station 049, Tolhuis / 050, Klapdorp / 058, Noorderterras
BIKE: park your bike in the bikepark below the building
CAR: parking in the building on request or parking Rijnkaai - 10-minute walk
Take note of the fact that The Beacon is located in the LEZ zone and that the rules regarding public parking have been made stricter
E VENT DISCLAIMER
Thank you for your interest in attending our upcoming event. Before you proceed with your registration, kindly review the following important information:
No-Show Fee: We understand that unforeseen circumstances may arise that prevent you from attending the event after registering. However, please note that there is a no-show fee of 50EUR applicable for individuals who register but fail to attend without prior cancellation. This fee covers the costs incurred in planning, organizing, and reserving your seat. We kindly request that you inform us in advance if you are unable to attend to avoid any inconvenience.
Photography and Recording: Please be aware that photographs, audio recordings, and/or video footage may be taken during the event. These visuals may be used for promotional and documentation purposes, both online and offline. By attending the event, you consent to the use of your image and voice in such materials. If you have any concerns or wish to refrain from being photographed or recorded, please inform our staff or event organizers at the registration desk.
By completing your registration, you acknowledge that you have read and understood the above information. We appreciate your cooperation in adhering to these guidelines and look forward to welcoming you to our event.
This meeting will be held in English, unless this is not necessary given the audience.